About me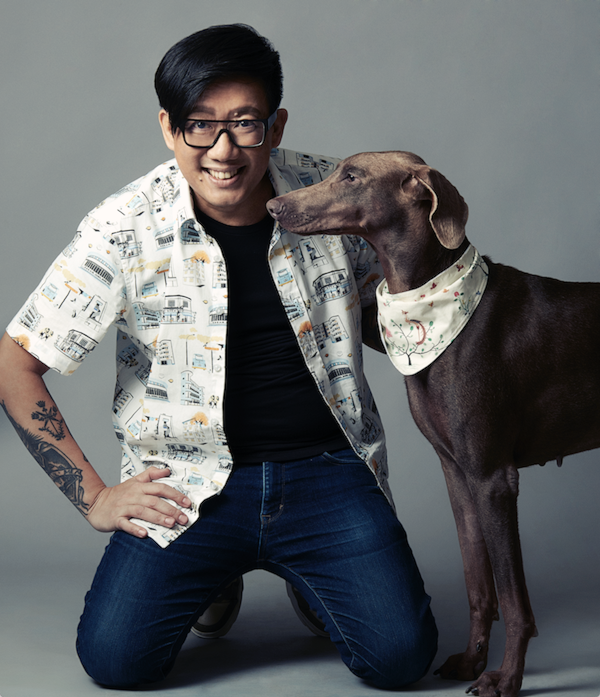 Daniel Boey
Daniel Boey, referred to as the "Godfather of Singapore fashion" by HerWorldPlus and "Singapore's fashion royalty" by IS magazine, is a creative and fashion director / curator whose name is synonymous with inspired, cutting-edge and groundbreaking ideas, and is one of the most sought-after fashion and lifestyle event curators in Asia.
In the era of Covid. Daniel was one of the first lifestyle producers to pivot, and is the founder of The Front Row ( www.thefrontrow.style ), Singapore's definitive virtual fashion festival, producing and directing virtual runway shows, style workshops and podcast discussions as well as curating an on-line fashion photography exhibition. In addition, he has worked on transitioning gala events to a digital format during the pandemic, and was the first in Singapopre to produce a fully digital fashion graduation runway presentation during the lockdown for NAFA.
Daniel is hailed as one of the "Singaporeans who mattered most in 2009" by CNNGo.com, a travel and lifestyle website by CNN. His extensive portfolio includes some of the most highly publicised fashion events in the region, and includes work in London, Edinburgh, Berlin, Manchester, New York, Bangkok, Beijing, Shanghai, Ho Chi Minh City and KL, for high-profile clients like Christian Dior, Louis Vuitton, Loewe, Fendi, Tiffany, Jean Paul Gaultier, Paloma Picasso, Hugo Boss, Herve Leger and Vera Wang, and couturiers Christophe Josse, Alexis Mabile, Maxime Simoens, Anne Valerie Hash, Frederick Lee, Michael Cinco and Sebastian Gunawan.
As one of the region's most respected fashion authorities, Daniel sat on the panel of the Haute Couture symposium in 2012 with fashion legend Ms Suzy Menkes, Mr Didier Grumbach ( president of the Chambre Syndicale de la Haute Couture ) and 8 Parisian haute couturiers. He was also roped in by the DesignSingapore council as creative director / fashion consultant to their shows in London (2005), Beijing (2007), Shanghai (2007) and Milan (2008), as well as creative curator for a Singapore Fashion Salon in 2017. Daniel was creative/show director at other world-renowned events like the Edinburgh Fashion Festival (2006), ExperienceUK in Dubai (2002), Manchester Fashion Week (2002/03), commonwealthFashion (2002 – in conjunction with the Manchester commonwealth games) and "Manchester in Malaysia" (1998 – in conjunction with the KL Commonwealth Games). He also worked extensively with the British DTI (Department of Trade & Industry) and Trade Partners UK to promote UK designers internationally.
As a curator, Daniel was responsible for conceptualizing, developing, producing and directing major fashion events in Singapore and the region, including inspirationUK, French Fashion Furor and MilanMania, the Singapore Fashion Festivals in 2001/2/4/8 (for STB), the Asia Men's, Women's and Haute Couture Fashion Weeks (2011-2015), the Singapore Jewel Fest (2007/08/09/10), FashionStepsOut 2016 and the Singapore Fashion Awards 2016/17. In addition, he worked with the Zandra Rhodes museum in London in 2004 to adapt the "My Favourite Dress" exhibition into an integrated, multi-disciplinary experience for an Asian audience, curating the Asian designers' collection as a special capsule that was shown alongside the international pieces (which included representation from Alexander McQueen, John Galliano, Vivienne Westwood and the like), as well as designing / producing the launch event. In 2002, Daniel was part of the Singapore team that worked on a Jean Paul Gaultier couture exhibition at the Asian Civilizations Museum in Singapore, and produced the opening show at it's opening. Daniel was also the brainchild behind DesignSingapore's cross- collaborative Blueprint showcase in 2008, curating the works of fashion and furniture designers, stylists, a filmmaker and a theatrical set designer, conceptualizing the content and designing twin events at SFF in Singapore and Salon Mobile in Milan.
Daniel also sits on the board of the Asian Couture Federation as a governor.
In his role as a creative curator, Daniel has designed spaces and experiences for Temasek Suite (2014, for STB/F1 Singapore), the Singapore Coffee Festival (2016), Art and Fashion (2016/17), the Design Singapore Fashion Black Book (2017), Celebrations By The Bay (an SG50 National Day event) and the SHINE Festival (2017). Daniel is the creative architect for the Singapore FinTech Festival (2017/18/19) as well as the producer and director for Expo 2.0 (2020).
As a fashion director, Daniel has worked with regional and international celebrities the likes of Tyra Banks, David Archuletta, Bar Rafaeli, Adam Lambert, Jodie Kidd, Denise Keller and Allen Wu, and was invited as a guest stylist for an episode of "Germany's Next Top Model". In addition, he collaborated with fashion designer Jay Quek to create the looks for the characters of "Monster Rock", a show at Universal Studios in Singapore that premiered in 2010. He has also contributed to international style bibles SURFACE, WALLPAPER and SHOWstudio.
Daniel the fashion personality has hosted "987fashion" and "fashion police" on Singapore radio, and has presented fashion and lifestyle segments on "E! News" (E! entertainment), "the Big Boutique" (discovery travel & living), "The Duke" (AXN), "Sun Tzu: war on business" (BBC), "The 5 Show" and "style doctors" (mediacorp). He was also the host of "Hangout with Fide Fashion Weeks" in 2013, a co-host on the social enterprise programme "Invest In Me" (CNA), and a guest judge on the Asian reality show "supermodelMe". In 2012, Daniel appeared in the inaugural cycle of Asia's Next Top Model as the resident fashion director and judge, and as a celebrity guest on Vietnam's Next Top Model in 2013.
In 2009, Daniel returned to his theatre roots and appeared in the musicals "Victor/Victoria" and "Sleepless Town". He won the award for "Best Costume" at the 13th Life! Theatre awards in 2013 for his styling work on the Dream Academy production of the Sondheim musical "Company" , and also served as fashion director on the Hossan Leong-helmed musical "A Singaporean In Paris" in 2014.
Daniel the author released his autobiography "The Book of Daniel : adventures of a fashion insider" ( published by Marshall Cavendish ) in 2014, in celebration of his 50thbirthday and his 25th year in fashion ( both in 2015 ). His second book, "Behind every *itch is a Back Story" was published in 2017, followed by "We Adopted" and "How To Train Your Hooman" in 2020.
Daniel is also an outspoken advocate of dog rescues and volunteers at animal welfare group Voices For Animals. He has also organized numerous doggie fashion runway shows, doggie fashion editorials and doggie appearances on television and films.
In recognition of his contribution and impact in the fast-paced fashion industry, Daniel received the Asian Couture Federation award for Outstanding Contribution to the fashion industry ( Singapore ) in 2014, the Elle magazine (Singapore) Fashion Icon of the Year award in 2007, as well as numerous endorsements from various fashion and lifestyle houses, including SkinInc, G- star, New Balance, Motorola and Grey Goose. Daniel was also appointed the South-East Asian ambassador for Italian retailer Luisa via Roma in 2013 / 2014.
Daniel graduated from the National University of Singapore in 1989 with a BA in Geography and English Literature.
http://www.danielboeycreatives.com
Follow Me